ABOUT THIS BOOK:
ON A COLD, GRAY MORNING in 1683, Molly Walsh sat on a stool, tugging at the udder of an obstinate cow. When she spilled the milk, she was brought before the court for stealing. Because she could read, however, Molly escaped the typical punishment of death on the gallows. At the age of seventeen, the English dairymaid was exiled from her country and sentenced to work as an indentured servant in an American colony. Molly worked for a farmer in Maryland for seven long years. Then she was given an ox hitched to a cart, a plow, two hoes, a bag of tobacco seeds, a bag of seed corn, clothing, a gun--and her freedom.
That a lone woman should stake land was unheard of. That she should marry an African slave was even more so. Yet Molly prospered, together with Bannaky turning a one-room cabin in the wilderness into a thriving one-hundred-acre farm. And one day she had the pleasure of writing her new grandson's name in her cherished Bible: Benjamin Banneker. She taught this young boy how to read and write; she told him about his grandfather, a prince from Africa, and about her days as a dairymaid across the ocean in England.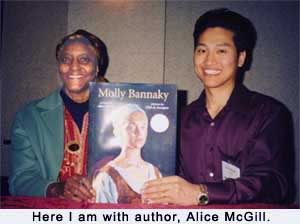 MY THOUGHTS OF "MOLLY BANNAKY":
Did you know the first African-American mathematician Benjamin Banneker's grandmother was an indentured servant?

Researching for this story was difficult because there weren't many books with illustrative history of 17th century America. I wanted my paintings to reflect that time in history. In one scene, I painted a black and white -Holstein cow. When I was finished with the artwork and MOLLY BANNAKY was published a year later, a book reviewer approached my publisher at a reading convention and commented that the cow could not have existed during the 17th century in America although it did exist in England. Naturally my publisher was concerned.
The publisher asked me for the resource of that Holstein cow. Because I was already working on another project, I honestly could not remember the name of the book that documented the Holstein cow's existence in America at that time. I wasn't able to sleep for many nights. I was nervous that I may have messed up by painting a Holstein cow in the wrong era. Also I worried I may ruin the book for the author and my publisher. After 3 weeks, I was relieved to find the Holstein Cow Association. They acknowledged the Holstein cows existence in America during the 17th century! I requested a letter as proof so I can show it to my publisher. Whew!!!! Sure enough, this book went on to win many awards including the Jane Addams Award and the International Reading Association Book of the Year. -Chris Soentpiet


BOOK REVIEW:
The oversized format and stunning watercolor paintings turn this fictionalized biography of the grandmother of Benjamin Banneker into an exciting visual experience. In clear, straightforward prose, McGill tells the story of an English dairymaid sent to the gallows for accidentally spilling "his lordship's milk," but saved because she could read from the Bible. She is exiled to America where she serves seven years as an indentured servant in Maryland. When finally granted her freedom, Molly Walsh stakes her claim and starts a farm attempting to grow tobacco, but soon realizes that she needs help. She purchases an African slave, Bannaky, vowing to treat him well and to set him free once her land is cleared. The two grow to love one another and break Colonial law by marrying. The story then jumps to the next generation and ends with Molly teaching her grandson Benjamin to read and telling him of his proud heritage. A historical note fills in some additional details. The large, double-page spreads throughout, in which Soentpiet brilliantly uses pace, tone, texture, and color, particularly in lighting up portions of each painting, bring depth and drama to the next. The lush green of tobacco leaves: the dark blue of ship, water, and sky: and the pervasive glow of candles, fires, and sunsets augment subtle symbols in composition and vivid characterization communicated through body language and facial expression. A good story in a fabulous artistic package. -SCHOOL LIBRARY JOURNAL: *** STARRED REVIEW 10/99
---
Her grandson was Benjamin Banneker, the famous self-taught African American astronomer and mathematician; but Molly Bannaky's own life story is just as astonishing. This handsome, large-sized picture book shows her as a woman who was strong enough not only to survive harsh times but also to break new ground. The historical fiction story starts in seventeenth-century Britain, where she is a dairymaid who is saved from the gallows because she can read the Bible. After being extradited to America, she is freed after seven years as an indentured servant. She stakes her claim in the wilderness and buys a slave, Bannaky, to help her. They fall in love, marry (even though it is forbidden by colonial law), build a successful farm, and bear four daughters, one of who marries an ex-slave and has a son, Benjamin. In the final double-page spread, Molly Bannaky is teaching her grandson to read and write. An afterward fills in the history, but the book's focus is on the big, richly detailed watercolor narrative paintings that combine historical pageantry with close-up portraits of a towering woman and her family. <br>-BOOKLIST: 9/15/99



Theme: MOLLY BANNAKY can be used to introduce your students to Benjamin Banneker, Puritan life, Colonial times, farming, slavery, indentured servants, bi-racial marriage/children, women in history.
Background: In the late seventeenth century, many people from England chose to leave the hunger and poverty of their country. They became servants in the American colonies, where laborers were desperately needed. In exchange for sea passage, indentured servants agreed to work for seven years when they were exiled from England by law. Molly herself escaped death on the gallows by a legal loophole-she could read the Bible, and so her life was spared. It was the responsibility of the court to supply the Bible, as many poor people did not own them. Many years later, after she became a free woman, Molly purchased a Bible from England.
After a grueling two-month voyage below the decks of a ship, where crowded and unsanitary conditions often led to disease, the "seven-year passengers" were sold to owners, who were required to provide them with food, shelter, and clothing. At the end of their term, bonded servants were given "all that was needed to start again on their own." Often they moved farther west and staked claims; settlers could pay for the land after their first crop was sold. African slaves had no such options: they were treated as property for the duration of their lives.
Under their laws, colonists could be forced into slavery for marrying a slave, though Molly Bannaky was never prosecuted for this "crime." Molly also feared retribution from disapproving neighbors. Bannaky never converted to Christianity, and as the nearest church was in Baltimore, it is thought that a traveling minister married them privately. Because Bannaky was free, their four children were born free. Their eldest daughter, Mary, also married an African slave, Robert. When Robert became a baptized Christian, the planter who owned him set him free - free to marry, free to own land, free to come and go as he pleased. Having no last name, Robert took his wife's name - Bannaky. By the time their first son was born the spelling of their name had changed to Banneker.
Taught to read from his grandmother's cherished Bible, Benjamin Banneker (1731-1806) went on to become a highly regarded scientist and mathematician. He taught himself astronomy and surveying and was appointed to the federal survey commission that planned Washington, D.C. Benjamin Banneker is best known for calculating "ephemeredes," tables that use the locations of the sun, moon, and starts to measure time. From the year 1792 to 1802, he published an almanac-the first by a black man-featuring these astronomical tables, as well as scientific essays. Benjamin Banneker wanted to disprove the popular belief that blacks were inferior to whites in intelligence. In 1791, he wrote to the Secretary of State Thomas Jefferson concerning the injustice of slavery, enclosing one of his almanacs. Jefferson answered, agreeing with Benjamin Banneker, and sent a copy of the almanac to the Academy of Sciences in Paris.
Pre-reading: Show the students the cover of the book, read the title, author and illustrators name. Ask them what they think the book will be about. Next show only the illustrations -- now what do they think the book will be about.
Reading: As you read and show the illustrations have the students look closely at the drawings. What details can they find in the pictures? Have them look closely at the expressions of Molly -- how do they change during the story. What was Molly feeling when she saw slaves being sold?
Geography: At 17 Molly Walsh traveled from England through which ocean to get to America? Refer to the globe for answers. Have the students plan a modern day trip to England. Then compare and contrast that trip with the trip in the book. Ask them to estimate the miles, how long will it take? Molly worked on a farm in Maryland, locate this state on the map.
Science: American settlers soon found tobacco to be a profitable export crop. It was popular in Europe where tobacco-smoking and snuff-taking had become fashionable. In Maryland, Virginia and North Carolina, vast areas were given over to tobacco. Plantation owners imported large numbers of slaves to cultivate it, dry its leaves and pack it to be transported to market. When prices fell in the middle of the 17th century, some planters turned to producing rice and sugar cane. What type of irrigation and cropping method was used during that time to grow tobacco, rice and sugar cane?
Literature: Read DEAR BENJAMIN BANNEKER by Andrea Davis Pinkney. Look for other books by Alice McGill and Chris Soentpiet. If you really enjoyed MOLLY BANNAKY write a review and post it on-line at Amazon.com or Barnesandnoble.com so others can enjoy your reading experience.
Bulletin Board - when Molly left England, she used a "sack" for her belongings. Have each student list what they would pack if the had to leave home suddenly -- remember they will have to carry the "sack" so no televisions please!